I'm inching my way towards becoming a proud Romahome owner and have seen the almost perfect model available at a dealer who has also offered a fair trade-in on my Kangoo Roo. But, the van is due to be delivered to another dealer on Monday so I have to make a quick decision, ie by tomorrow.
The van is a 2006 1.9HDi Outlook SX with pullman seating, 1 owner, FSH and 15k miles - so quite desirable. Not being too familiar with them, I have a couple of queries and hope the experts here may be able to advise, please.....
1. I'm curious about the plumbing arrangments. There is a large plastic water tank of about 20 litre capacity in the locker on the left - the position of the table in the pullman layout. It's not connected to anything. Beneath the opposite locker on the right is a 9l jerrican with a red hose through the neck and what looks like putty. On my cursory glance, I didn't spot a submersible pump but had assumed Romahomes probably used a larger external water pump. Also, there was no obvious means of filling it.
Q: What is the usual arrangement?
2. The van was advertised as having heating but I couldn't see any. The dealer, which specialises in large caravans/motorhomes, agreed to install an Eberspacher diesel heater but admitted they didn't know anything about them and had never previously fitted one.
Q: How easy is it to do a retro-fit on one of these?
3. I'm completely unfamiliar with Zig units and the Romahome power system (my Roo has a leisure battery and I run appliances from it by attaching directly with crocodile clips...). As far as I can see, the RH doesn't have a leisure battery - but I could be totally wrong. It looks as though there was a battery box fitted behind the front seats but this has been removed. Also, I couldn't see any means for venting it.
Q: Do Romahomes have a leisure battery fitted as standard and where are they normally located?
Q: Do they have a split charger, or do they charge in a different way?
Q: Does the Zig unit relate to the leisure battery or the engine battery? Do the lights, fridge, water pump (or submersible pump..?) run from the engine battery or the leisure battery?
I've attached photos below: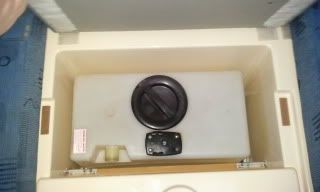 The empty water tank - not connected to anything!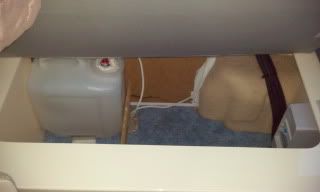 The jerrican (and possible submersible pump) with no obvious means of filling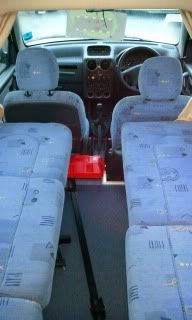 Should there be a leisure battery and should it be behind the front seats??
I hope someone will be able to help. I really like this vehicle and it has everything I've been looking for (apart from air-con) but not being familiar with the specifics of Romahomes I want to make my decision based on as much information as I can muster.
The dealer is not familiar with Romahomes - it was taken as a part-exchange, is possibly under-priced and I could see he 'wanted rid' because it doesn't compliment the rest of their range (just as my Roo wouldn't either!) and hence the arrangement to shunt it to another dealer on Monday.
Thank You.